By Page Leggett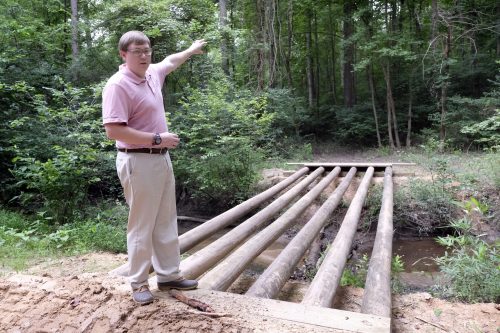 If Brian DuPont takes you on a tour of his adopted hometown, Mount Holly, his enthusiasm for it may make you want to move there. The Charlotte native, 32, moved to the Gaston County town to work for the department of planning and development when he was straight out of college. He's been there ever since.
One reason he loves Mount Holly: the easy access it offers to the Catawba River, one of the city's best amenities.
As one of two planners for Mount Holly, DuPont has been involved in creating the Mountain Island Park Trail – part of the Carolina Thread Trail and just a stone's throw from the U.S. National Whitewater Center. But DuPont hasn't done it alone. "There are a lot of handprints on this shovel," is how he puts it.
On our walk in July, he told me the collaborative effort is part of what makes this project so special: "The city of Mount Holly, Catawba Lands Conservancy, Carolina Thread Trail, the Tarheel Trailblazers, Duke Energy and FROGS (Friends of the Greenway) have all been part of making this happen."
About four miles of trail is finished so far. The long-term goal is 10 miles of continuous greenway around Mount Holly.
Filled with dogwoods, pines and hardwoods, these 200 acres offer shaded trails, including five picturesque foot bridges. And there's fishing access and a boat launch – although swimming is not allowed in the rapidly moving water. Three campsites, complete with grills, allow you to sleep under the stars – after grilling the catfish and bass you caught if you were lucky.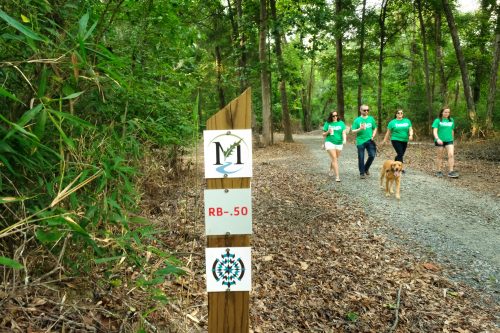 Before you come to the trailhead near the Mountain Island Lake Dam, you'll pass a park with play structures. Duke Energy leases the park to Mount Holly. Another park, Tuckaseege Park, lies at what will ultimately be the other end of the trail.
Just beyond the playground, the gravel and crushed stone trail DuPont and I walked is 1.6 miles one way. It's on mostly flat terrain, but forks in the trail give hikers an option of continuing on flat land or going up a slight incline for a tougher workout. "Built-in flexibility," DuPont calls it.
He also showed me some wildly undulating terrain that will be home to mountain bike trails, the first phase of which will be completed this year. The Tarheel Trailblazers, a local mountain biking advocacy group, were involved in selecting the locations to provide the greatest thrills for cyclists. The Trailblazers will also be involved in constructing those trails.
This year's class of Trail Masters will also play a role in bringing the master plan to life. When the Trail Master candidates meet for the four-day certification course in October, they'll continue work on the trail system as they learn about sustainable trail construction and maintenance.
Trails have been thoughtfully constructed. There are open "congregational areas" on the path. The trails encourage encounters with nature – as well as encounters with fellow hikers, too.
Creating connections is what the Carolina Thread Trail is about. And Mount Holly residents are eager for more connecting points to neighboring cities.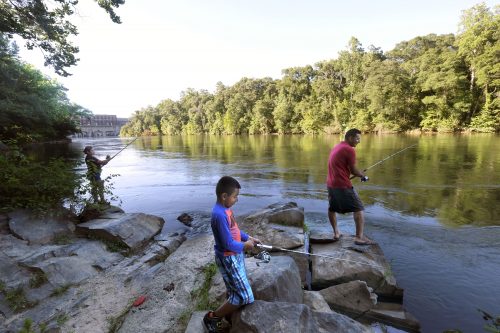 It's not as if all roads lead to Mount Holly. There are just five vehicular crossings over a 20-mile county line dividing Mecklenburg and Gaston counties. Connecting trails from Mount Holly to Belmont, Mecklenburg County and the Whitewater Center is the long-range plan.
"It's easy to build a trail within your own jurisdiction," he said. "But we want to connect to other cities. We want to be part of an entire network."
"Connecting community and nature" is Mount Holly's slogan, and DuPont enjoys pointing out where that's going to happen. When the trail is complete, downtown Mount Holly – with its quaint coffee shops, boutiques and the soon-to-open second location of JackBeagle's, a popular bar and eatery in the NoDa (North Davidson) neighborhood in Charlotte – will be in the center of it all.
DuPont looks forward to the day that people – and not just Mount Holly residents – will spend a Saturday or Sunday on and along the Catawba – biking the trails, stopping in for a beer downtown and maybe paddling in the afternoon.
"This is more than just a nature trail," DuPont said. "This is about economic development. We've learned that if we build it, they will come."