Volunteer with us!
Help create your regional trail and river network! The Carolina Thread Trail is created by volunteers who support everything from community engagement to trail construction. Join us and help make a difference in your neck of the woods a healthier place to work, play and explore!
Volunteer activities include:
Trail construction and maintenance
Habitat restoration with Catawba Lands Conservancy
Special event support
Trail Masters (trail project leaders)
Thread Trail Ambassadors (community event representatives and outdoor program support)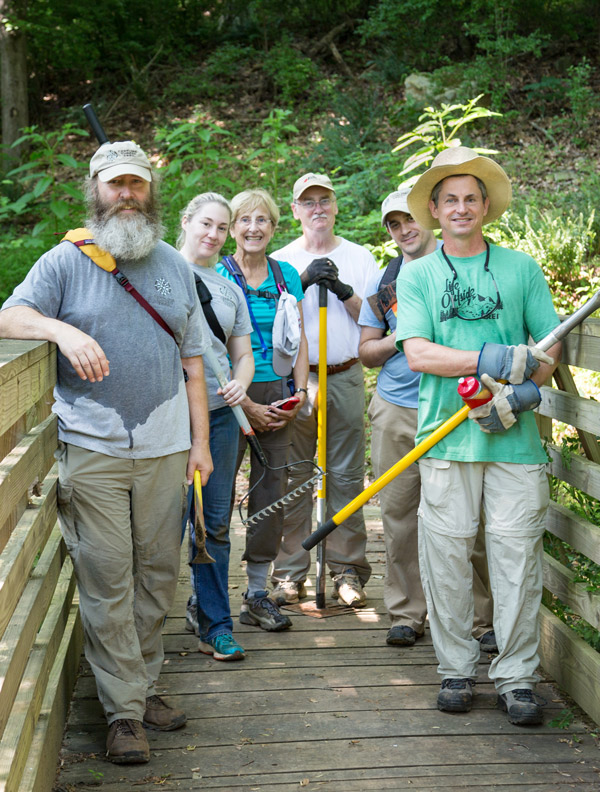 Trail Masters
Our Trail Master course certifies community volunteers and industry professionals in the latest sustainable trail design, construction and maintenance techniques. Trail Masters serve as crew leaders during our volunteer workdays, support with implementation partners and help with staff projects for three years after the course. They play a vital role in establishing and maintaining trails throughout our communities.
This course is offered to volunteers and Thread Trail implementation partners at a nominal fee. Please email Becca Cohler if you are interested in learning more.
Thread Trail Ambassadors
Thread Trail ambassadors help spread the word about the Carolina Thread Trail and Catawba Lands Conservancy by educating the public about who we are, what we do and how community members can get involved. After attending a one-day training session, Ambassadors volunteer at outreach events, as well as assist with outdoor programs.