NATIONAL TRAILS DAY
Saturday, June 5, 2021 | 10 am – 2 pm
Mount Holly's Catawba Riverfront Greenway and Tuckaseege Park
165 Broome St., Mount Holly, NC 28120
presented by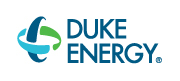 Celebrated on the first Saturday of June, our National Trails Day celebration is a great way to kick off the summer on segments of the Thread Trail on land and water! The annual American Hiking Society's National Trails Day is the country's largest celebration of trails featuring a series of outdoor activities across the United States designed to promote and celebrate the importance of trails to our communities.
National Trails Day is a free community event. This event is proudly co-hosted with the City of Mount Holly.
The Carolina Thread Trail takes the COVID-19 pandemic seriously and prioritizes the safety of event attendees, volunteers and staff. Read more about the safety precautions that will be in place for this event below.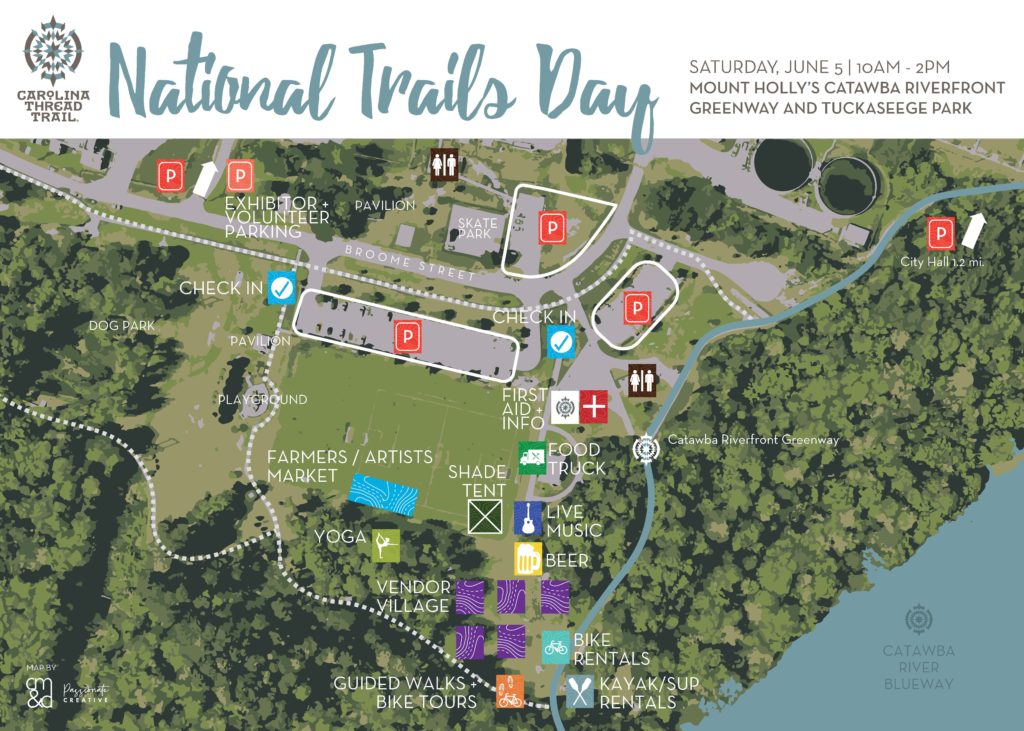 Activities
Habitat Restoration Volunteer Project | Guided SUP Lessons | Guided Nature and History Walks | Guided Bike Tours
Group Yoga | Bike Rentals | Kayak Rentals* | SUP Rentals**| Dog Park | Skate Park
Playground | Youth Nature Activities | Lawn Games | Outdoor Lifestyle Exhibitors | Trips for Kids Bike Drive
Live music by: Jeremey Davis from Elonzo Wesley | David Childers | Mike Strauss Ban
*Kayak rentals are scheduled on a first come, first serve basis for free for 20 minutes.
**SUP rentals are scheduled on a first come, first serve basis at $10 for 30 minutes. 
Exhibitors
Carolina Thread Trail | Catawba Lands Conservancy | Go Gaston | Clariant | Fairfield Inn by Marriott | Anchored Soul | Aquatic Adventures | River Rooster | Riverside Paddle & Row | Catawba Riverkeeper Foundation |  On Track Yoga | Trips for Kids | Down to Earth Co-Op | Gaston County Parks & Recreation | Master Gardeners of Gaston County | Gaston County Museum of Art and History | Mecklenburg Audubon Society | Gaston County Natural Resources | Gaston County Bee Association | Sustain Charlotte | Tarheel Trailblazers | McLean on Lake Wylie | T-Mobile | Destination Magazine | Great Outdoor Provisions | Crowned Sparrow Craft Co. | Gaston Piedmont Area Wildlife Stewards | NC Native Plant Society Southern Piedmont Chapter | Athletic Brewing Company | Gaston County Park Hop
Vendors
Blue Blaze Brewing Co. | Maki Taco food truck | King of Pops| Farmer's & Artists' Market
Catawba Lands Conservancy and Carolina Thread Trail are acting in compliance with local and national guidance on COVID-19, and encourage all participants to take actions to ensure the safety and comfort of those around them, including maintaining distance and/or wearing a mask if unvaccinated.
While the National Trails Day event has always featured and focused on the many activities one can participate in while outside throughout a park, along a trail and on the river, this year especially, the event is formatted in a way that discourages congregation and encourages safe physical distance from people outside of your household or "pod".
This event encourages people to enjoy the outdoors together as a community while maintaining a safe distance, through small-group activities such as kayaking, stand-up paddle boarding, bike riding, walking, yoga and lawn games. Pre-registration is required for guided activities and capacity for those activities is 15 maximum participants per session. Registration and activity info can be found on the "Activity Registration" tab.
Exhibitors will be spaced throughout the site and activities will be dispersed throughout the park, trail and river. We will have social distance circles in front of the live music area to allow people to observe and listen with their household or "pod" while discouraging large groups congregating.
While this is a free community event, we are emphasizing that interested attendees RSVP for this event (can be done on the "RSVP" tab) and show us their RSVP confirmation upon arrival to one of two Welcome tents. Event capacity may be capped to ensure safe social distancing.
RSVP to be entered into our raffle!
Raffle prizes to be announced closer to the event. The raffle will be called at 12:00 pm at the band stage. You must be present to win.
REGISTER

Register for FREE day-of activities! Spaces are limited.
Kayak Rentals
Kayak rentals are free and scheduled on a first come, first served basis for 20 minutes on the water. Instruction is not included.
SUP Rentals
Stand-up paddle board rentals are $10 and scheduled on a first come, first served basis for 30 minutes on the water. Instruction is not included.
Volunteer to help host the festival!
Volunteers are needed throughout the day to help with everything from set-up to kayak rental support to staffing our Thread Trail tent section to checking people into the event and so much more! We are also looking for volunteers who specialize in water safety and first aid. It's a fun way to get involved and support the success of the event! You will receive a Thread Trail shirt and a lunch ticket along with unlimited snacks, water and Gatorade to keep you going!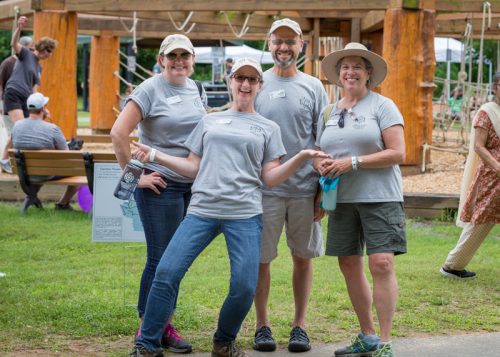 Getting There
Mount Holly's Catawba Riverfront Greenway and Tuckaseege Park
165 Broome St, Mount Holly, NC 28120
Google Map Link
Parking
You can park in the Mount Holly Municipal Complex Parking Lot. There is very limited parking at the park, so we encourage you to use this option and enjoy the new paved 1-mile greenway along the Catawba River!
Mount Holly Municipal Complex Parking Lot
400 East Central Ave., Mount Holly, NC 28120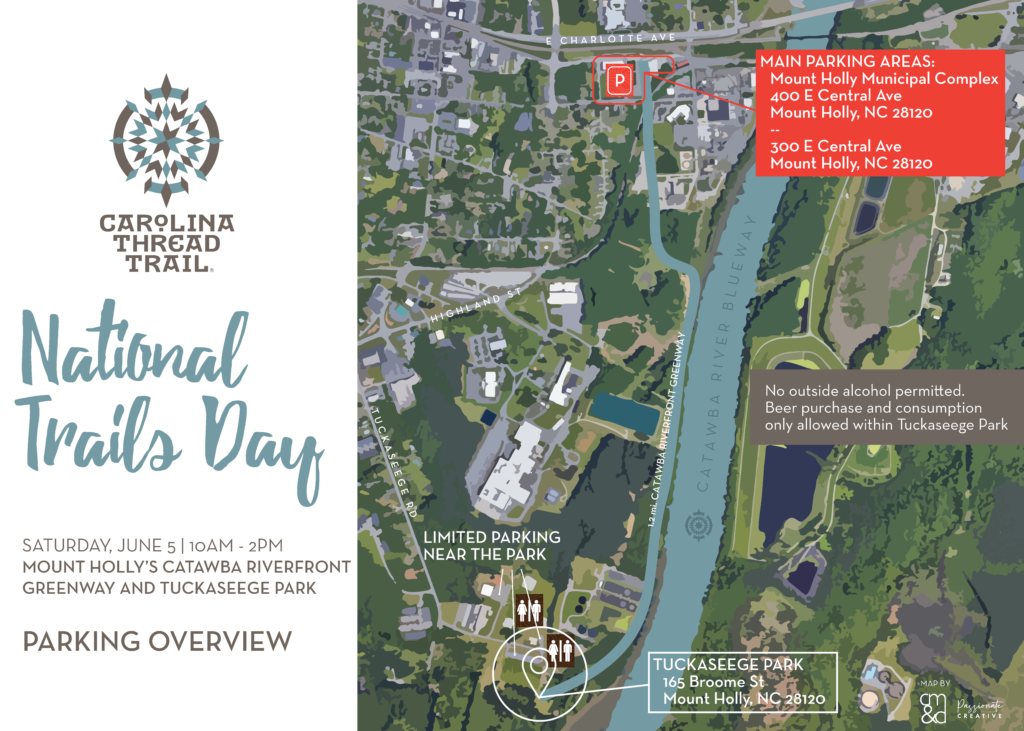 PRESENTED BY

SPONSORS FRIEND SPONSORS