Over the last few years, Gaston County has increasingly become a destination for outdoor recreation, with water sports like kayaking and paddle boarding gaining in popularity. In turn, the draw of the rivers is bringing more tourists and their dollars to the area's towns. Recognizing this, the Gaston County Board of Commissioner officially designated about 13 miles of the South Fork Catawba River and 26 miles of the Catawba River as blueways under the Carolina Thread Trail Master Plan.
In fact, visitors spent more than $291 million in Gaston County in 2019, an increase of 5.6 percent over the previous year, according to a study prepared for Visit North Carolina by the U.S. Travel Association. As COVID-19 created lockdowns around the country in the spring and summer of 2020, many Americans sought places of natural refuge like the Thread Trail where they could exercise and recreate in the fresh air. The pandemic brought about a renewed interest in the great outdoors, which has had a sustained effect on the tourism industry in Gaston County.
According to Carolina Thread Trail Community Coordinator Ashton Lamb, the blueways in Gaston County highlight both the tourism and conservation benefits of rivers.
"Designating a river as a blueway has a huge economic benefit, and it's recognizing the significance of these rivers to communities and businesses," Lamb said. "It makes the rivers a larger draw not only inside Gaston County but outside of it as well. When you designate a blueway, from a conservation perspective, it's putting a natural feature on the map in a different way. It adds an extra form of protection when development is being considered by town and county government councils because they're also interested in promoting this area for visitor recreation."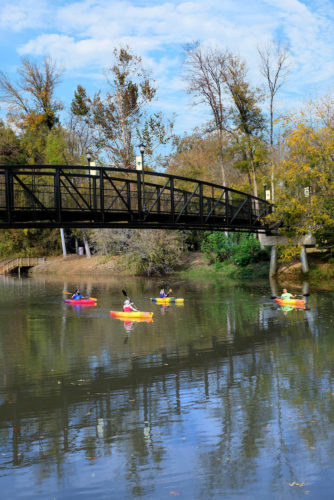 A Gem for Tourists and Locals
Michael Applegate, Executive Director for Gaston County Travel and Tourism, pointed to the opening of a Home2 Suites in Belmont and a Fairfield Inn & Suites in Mount Holly during COVID-19 as a sign that the county's appeal is only growing. "The ownership groups were excited about the proximity to the river in both cases," he said. "They know they'll have more business during the weeks but more outdoor leisure travel on the weekends."
Gaston County Director of Parks and Recreation Cathy Hart said the county is well aware of the increasing demand for outdoor recreational opportunities. "We currently have one park – South Fork River Park in Gastonia – where there is access to a blueway, but we are looking forward to adding some additional access points, particularly at George Poston Park, in the next two years. We're working with other municipalities to get a greenway through there and then we will create blueway access right beside it that'll be great for hiking and kayaking."
She added that her department receives many calls each week about how people can best access the river. "County parks remained open during COVID-19, and people were hungry to get out of their house and step away from Netflix and streaming services and get outside," Hart said.
Hart said Gaston County is eager to expand its restaurants and amenities. To that end, it is working on a strategic plan to make itself a destination for outdoor activities. But it intends to balance growth with conservation efforts, so the area's natural beauty remains accessible to future generations.
Assistant Planning Director for the City of Mount Holly Brian DuPont said his community has been reinvigorated and revitalized by the fact that the greenway and blueway system is expanding now after 20 years of planning. "On the economic investment side, we're seeing a lot of businesses wanting to come and locate adjacent to or in close proximity to the greenways and blueways," he said. "They see what the community is invested in and they want to be part of it. There's also been an uptick in tourism, groups renting out hotel rooms, more Airbnb rentals and more foot traffic in downtown Mount Holly where people can shop and grab dinner."
Mount Holly's three major parks – Tuckaseege, River Street and Mountain Island Lake – all have canoe and kayak access points. "It's easy to access downtown from River Street and Tuckaseege Parks because of the Thread Trail's greenways," DuPont said. "We also have a Springfest 5K in May each year through the parks which uses the greenway system and runs along the Catawba River."
He also noted that as new single-family community and commercial developments express interest in the area, the town is quick to point out how they can make the best use of nearby greenways and blueways to enhance quality of life appeal.
Serenity on the Water
McAdenville – known nationally by its nickname "Christmas Town USA" because of the elaborate seasonal light displays of its residents each December – is also becoming a hub for visitors in the warmer months. The Catawba Riverkeeper Foundation's headquarters recently relocated there. It can be found tucked against the South Fork River adjacent to the Thread Trail's South Fork Trail and Blueway access point. There visitors can embark on a half-day guided tour of the river, first being shuttled up to Spencer Mountain before kayaking southward through some Class 1 rapids.
"It's largely undeveloped along the banks up there and you feel like you're much farther away from Charlotte than you really are because it's peaceful," McAdenville Town Councilmember Greg Richardson said. "It's very quiet on the river, just the sound of rushing water and the view of the ruins of a Civil War era bridge."
This summer the town also opened a public canoe and kayak launch at the trailhead of the McAdenville South Fork River Greenway near the Carstarphen Bridge. It is special because it is the first launch located south of the dam, though there are several access points along the river. "The new launch has been four years in the making, and there's a greenway along the river for taking a nice stroll too," Richardson said.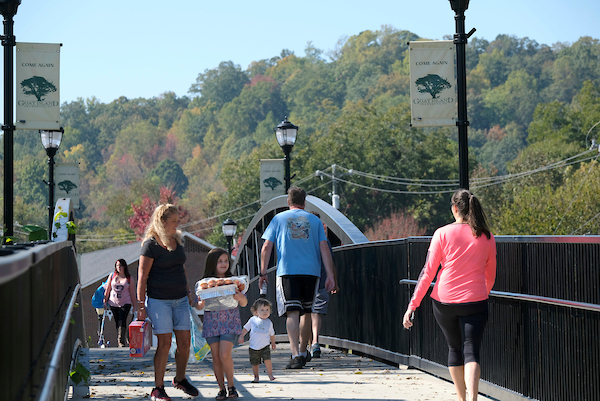 Just a five-minute walk away from this new launch area is McAdenville's downtown where people can visit boutiques and restaurants. But, according to Richardson, much more walking is coming. There is a long-term dream to extend the River Link Greenway, a part of the Thread Trail, so it would run along the river from Spencer Mountain all the way to Daniel Stowe Botanical Garden.
Putting it in Perspective
Gaston County is busy preparing for a prosperous future. "There is a bigger vision of the South Fork River shared by the towns, the Catawba Lands Conservancy and the Riverkeeper of turning this into a destination regionally," Richardson said. "We want the river identified as a recreational and historical location with a brown sign on the interstate."
Nearby communities already have earned a reputation as kayak-friendly destinations among outdoor lovers. When it comes to Cramerton, you can paddle downtown and walk to Mayworth's Public House and Doffer's Canteen or check out Floyd & Blackie's Coffee and Ice Cream. It's becoming a point of interest to visit places from the South Fork," Applegate said.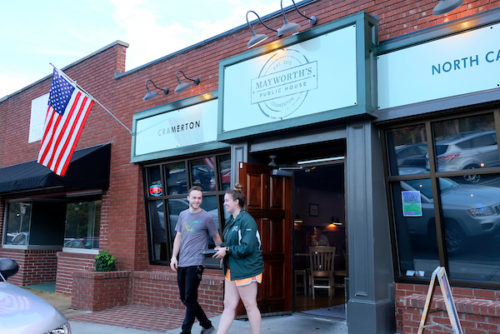 He credits the early efforts of the Conservancy and Thread Trail for helping create a tourist-friendly atmosphere in Gaston County. "I was fascinated by all the free access that was available to the people who wanted to get into the water here," he said.
"We want to become the premier outdoor tourist destination in the Piedmont. We couldn't have started that goal without the Conservancy and Thread Trail being here. They find responsible ways to activate these places for the greater good of all."