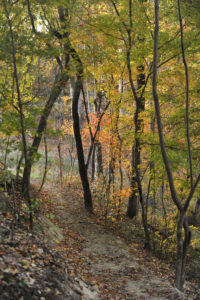 A Tree (& Pumpkin) Lover's Paradise: Pharr Family Preserve Trail
Hardwood forests and wildlife abound at Pharr Family Preserve in Midland, NC. Sycamores, black walnuts, cottonwoods and bitternut hickories constitute the majority of the canopy, making for a beautiful autumn display. After your hike, head just a few miles south to family-owned Riverbend Farm. This farm is home to a section of Thread Trail as well as a pumpkin patch that operates in the month of October. Bring the whole family and pick-your-own!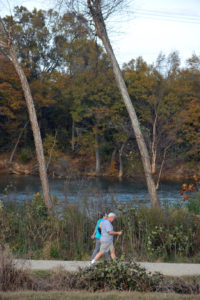 Eat and Explore at Riverwalk: Piedmont Medical Center Trail
You can't beat the views of the Catawba River in fall from this trail in Rock Hill, SC. Reflections of the changing leaves on the water make for an idyllic stroll, and no matter how you use it (run, walk or roll), this trail is easily accessible. Stop by one of several waterfront restaurants for lunch, then head down to the trail and explore.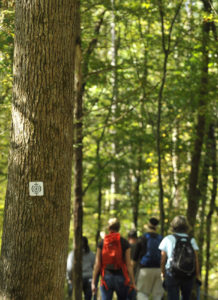 One Hike, Two States: Twelve Mile Creek Trail and Greenway
Fuel up for your day at either Virtuoso Breadworks or Crossroads Coffee House in Waxhaw, NC. Then hop in the car for a short drive over to the trail, where you'll walk about 1.4 miles to the 170-foot suspension bridge spanning Twelve Mile Creek and marking the NC/ SC border. If that's not enough for you, the greenway continues another 3.5 miles in South Carolina, ending at Walnut Creek Park in Lancaster. Reward yourself after your hike with a treat from the Waxhaw Creamery. They have great homemade ice cream and Italian ices. Or grab a brew at The Dreamchaser's Brewery.
Photos by Nancy Pierce.