Spring is here and Mother Earth is beginning to wake up, bringing a bounty of gorgeous blooms. For all you flower lovers out there, we've pulled together three trails that you won't want to miss this spring!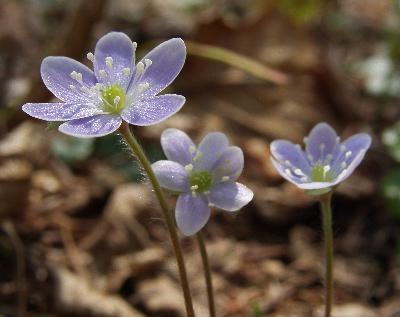 1. Girl Scouts Hornets' Nest Trail – Statesville, NC
This 2-mile natural surface trail is a little off the beaten path, but well worth the drive! It winds through a beautiful 358-acre property protected by the Catawba Lands Conservancy and is housed within the Girl Scouts' Dale Earnhardt Environmental Leadership Campus at Oak Springs. The trail is a wonderful hike during all four seasons, but it's during the spring that you'll see a special show of ephemeral wildflowers covering the slopes of the forest. This is truly one of the hidden gems of the Carolina Thread Trail!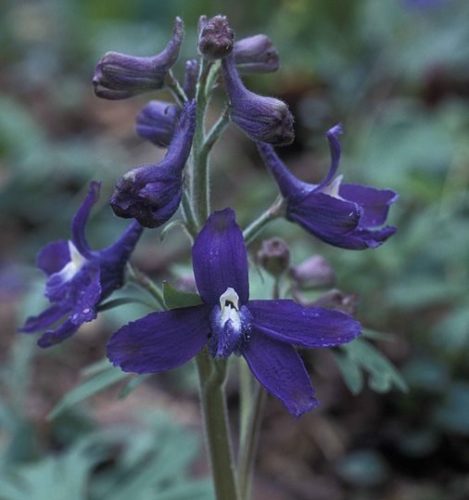 2. McAlpine Creek and Campbell Creek Greenway – Charlotte, NC
You might be familiar with this popular greenway, located on the border of Charlotte and Matthews. But did you know that it is home to Mecklenburg County's only population of a rare native wildflower, the dwarf larkspur? This rare purple flower has showy blooms in springtime, but they only last a short time! Keep your eyes open for its deep purple spires while you're exploring this urban greenway.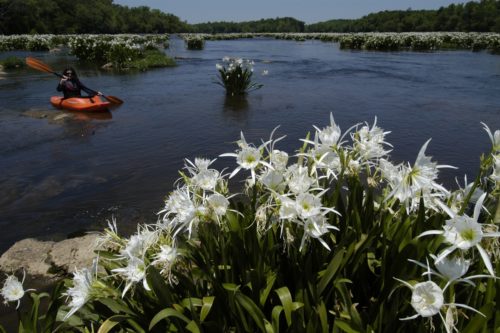 3. Catawba River Blueway – Lake Wylie Dam to Landsford Canal State Park
Late spring brings rare blooms of a different type – the rocky shoals spider lilies! The Catawba River is home to the largest known stand of these unique plants, which make their home on the rocks in the middle of the river. Their white flowers can be seen from mid-May to mid-June, and are best experienced by paddling through the stand. There are kayak put-ins and take-outs at Landsford Canal State Park, but if you're more of a hiker than paddler, the lilies can also be observed from shore at the overlooks along the Landsford Canal Trail! It's an easy 1.5-mile gravel trail that provides multiple vantage points to view the river, as well as historical markers about the canal's former operations.
We hope you enjoy exploring these trails and seeing the Carolinas in bloom!