Trail Masters Program
Trail Masters are leaders in developing and maintaining segments of the Carolina Thread Trail throughout the 15-county region. Volunteers and industry professionals attend a four-day course on the latest techniques in sustainable trail building and maintenance as well as volunteer leadership. This nationally recognized certification lasts three years.
Since 2011, Carolina Thread Trail has trained and certified 116 Trail Masters who have logged more than 5,500 volunteer hours.
Volunteer Trail Masters are expected to lead groups of volunteers during Thread Trail hosted community and private workdays. Community workdays are hosted monthly on Saturday mornings or Friday mornings. Private workdays may be hosted during the week in the mornings or afternoon.
Volunteer Trail Masters have the opportunity to work with staff on special trail projects, support our implementation partners with their design, construction and volunteer workday efforts as well as help monitor the trails the Thread Trail directly manage on a monthly basis. Trail Masters may also represent the Thread Trail at community outreach events and at outdoor programs and volunteer at our special events throughout the year.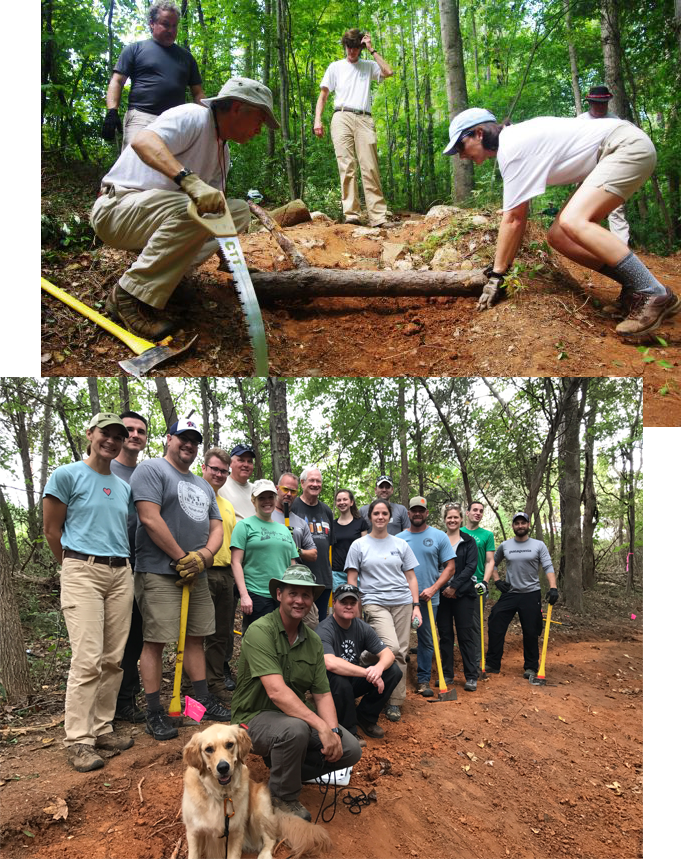 BECOME A TRAIL MASTER!
Application for the course and volunteer program is now closed. Please email will@carolinathreadtrail.org to receive future program information.
TRAIL MASTER ELIGIBILITY REQUIREMENTS

Live in the 15-county Carolina Thread Trail footprint.
Attend a four-day trail building school.
As a volunteer Trail Master, you must commit volunteering your time for three years to support Thread Trail activities.
Be at least 18 years of age.
For questions about the program, please contact:
Will Ruark
Trail and Stewardship Coordinator
704-342-3330 ext. 2213